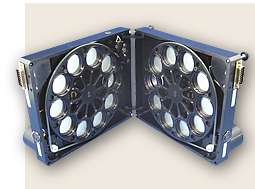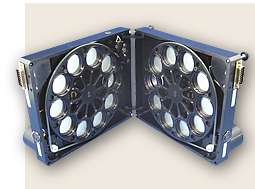 Filter changers for quantitative microscopy
McBain can supply a selection of filter wheels to address different requirements for different applications, such as quantitative fluorescence microscopy which requires rapid, reliable, automated filter selection. From compact emission filter wheels to dual ten-position wheels, there is a filter wheel to fit the need.
These filter wheels can integrate seamlessly with existing microscope systems and are widely supported by imaging software applications. Excitation filter wheels are designed to control the illumination wavelength before it enters the microscope. Six- and ten-position filter wheels offer significant flexibility, performance and reliability. The standard filter wheels can accept 25mm and 32mm diameter filters in any combination. Compact, lightweight, shutterless designs enable filter wheels to be easily mounted to the camera port on most microscopes, whether upright or inverted. Mounting flanges enable the filter wheel to be effectively inserted into the optical path without affecting camera or eyepiece focus.
McBain obtains filter wheels from two of the industry's major manufacturers, Applied Scientific Instrumentation and Ludl Electronic Products. See the downloadable brochures for additional information on the many filter wheels that are available&hellip
We can ship this item worldwide.  If you would like a specific quote and estimated delivery time, contact us today.