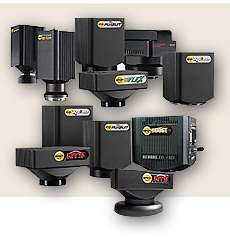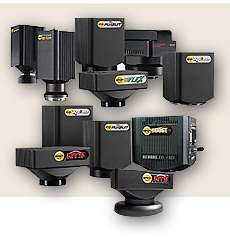 Diagnostic Instruments Digital Cameras
Closed-loop DC servo control of the X, Y, and Z axes
Precise positioning and highly repeatable focusing
Wide dynamic speed range with XY joystick control
Utilizes ASI's proven Z-axis drives
Z-axis clutch for easy switching between manual & motor-driven focus control
Backlit LCD display shows X, Y, and Z coordinates
"Zero" and "Home" button for simple stand-alone operations
Compact ergonomic tabletop control unit size is 6″D x 9″W x 3″H
Microprocessor control with RS-232 serial and USB communications
Proven operation with many popular software packages
Suitable for stand-alone, OEM, and specialty applications
The ASI LS-50 Linear Stage (pictured, lower) provides sub-micron accuracy, and derives precise control through the use of closed-loop DC servomotors employing high-resolution rotary encoders for positioning feedback. The stage utilizes crossed-roller slides, precision lead-screws, and zero-backlash miniature geared DC servomotors for smooth and accurate motion. The unit offers 50 mm (2″) of precise travel, can be used either vertically or horizontally, and can carry loads up to 4.5 Kg (10 lbs).
The unit can be configured with a number of lead screw options. In the standard configuration, and using ASI's MS-2000 control electronics, resolutions in the 50- to 100-nm range can easily be obtained. Repeatability factors of less than 300 nm (typical) are obtainable with optional linear encoders, compared with 800 nm which is typical with other rotary encoders.
The MS-2000 controller accepts industry standard commands, provides automatic backlash correction, and allows RS-232 or USB communication with a host computer.