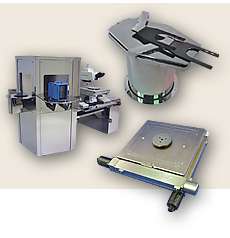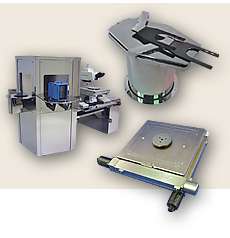 Ludl Stages and Wafer-Handling Robots
Designed for the semiconductor industry
Low-Profile Microscope Stages
To meet the demands of the semiconductor industry, Ludl Electronic Products offers a full line of high-accuracy, high-performance, low-profile microscope stages. Attention has been given to all details of design, manufacturing and components. Each stage uses a highly refined, evolved design. All critical components are machined on state-of-the-art machining centers in Ludl's own machine shop for the highest level of control. All components are inspected and measured to exacting specifications. Ludl's ISO9001-registered quality system ensures that only perfect parts are used.
All surfaces are anodized aluminum, no paint is used. The guide bearings are stainless steel for corrosion resistance. Precision and repeatability is assured by the use of high-resolution rotary encoders mounted to the leadscrew shaft or linear scales embedded directly into the stage. Zero-backlash ballscrews ensure high accuracy and long life. Precision-ground crossed roller bearing guideways further enhance performance. With minimal recommended maintenance these stages will provide many years of performance.
For 200mm wafer applications, Ludl provides an 8″x8″ stage. The 8″x8″ stage is available in a compact envelope version that can be mounted on most smaller microscopes that were originally designed for 150mm wafer applications. With little compromise, the reduced envelope also makes integration with loaders easier. As a result of the compact envelope, the insert cutout is 193mm square. This is identical to the 6″x6″ stage and only provides transmitted light capability over the center 150mm of travel. Built to exacting standards, this stage has specifications that meet or exceed the requirements of routine semiconductor microscopy. Compatible with reflected and transmitted light applications, the standard insert plate can accept a variety of options including motorized rotating vacuum wafer chuck, fixed vacuum chuck, glass plate and other custom holders. Other features such as adjustable end-limits, anti-creep roller cages and universal mounting make this stage an excellent choice for metrology and inspection applications. For 300mm wafer applications, a 12″x12″ stage is also available, providing similar features.
Ludl Wafer-Handling Robots
Ludl wafer handling robots offer the highest performance and accuracy in the smallest package. Utilizing proven features in a highly evolved design, the Ludl Electronic Products robot provides very high reliability and throughout. The over/under transfer scheme permits wafer handling within a very small envelope and minimizes wafer exchange time. The low height and surface mount of this robot enable a system design to utilize more of the space around the robot for integration of electronics, instrumentation and other automation. No other robot provides this design freedom. Designed for high reliability, the Ludl 300mm robot has no complicated mechanisms, drive trains or multi-link arms, which are prone to failure and misalignment.
The Ludl robot has many unique design features: The platform mount vastly improves the ease of assembly and service. The telescoping lift axis provides long range of motion while requiring very little space. And the linear radius axis and precision rotation axis ensure the highest wafer placement accuracy.
A rich command set, via either RS-232 or USB interface, provides for multi-level control. At the most fundamental level, full control of all motion parameters and servo characteristics is available. In addition, a complete high-level command set provides control of wafer transport, system status and error handling.
Optional accessories can expand the handling system to a complete automation system. With the MAC 2002 controller as a foundation, accessories such as a cassette mapper, notch aligner and XY positioning stage can be added to build a complete automation package.
We can ship this item worldwide.  If you would like a specific quote and estimated delivery time, contact us today.