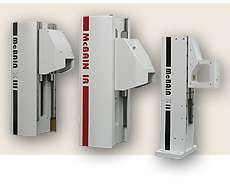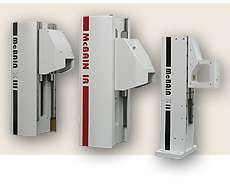 A family of robust, ergonomic Z-axis focusing columns
McBain's family of Z Columns provide for robust, ergonomic Z-axis focusing for a range of precision microscopy and measurement needs. Virtually any manufacturer's optics can be mounted to the ZIII, providing the flexibility to customize the performance of your microscope for your precise needs.
McBain ZIII Column
The ZIII Column is manufactured from cold stabilized, precision ground, cast aluminum and uses 9mm cross roller bearings. Z-axis traversing is accomplished by means of a Remote Focus Controller unit. The remote focus control provides selectable magnification ranges from 5x to100x. Focus speed for each objective is selected by lighted pushbuttons and allows proportional fine-focus movement at all magnifications. Each speed is user-configurable to suit operator preference. A rapid-traverse feature allows quick movement in the Z-axis without rotating the focus knob. Front panel status lights indicate the direction of focus and end-of-travel. Travel is 6″ total with focusing down to the top surface of the stage.
A massive, stress relieved, precision-ground casting forms the backbone of the ZIII Column. Equally impressive 9mm cross roller bearings provide smooth, linear motion for high-magnification optical loads of up to 60 pounds (27kg). Throughout the entire six inches of vertical travel (150mm), coarse and fine focus capability remains constantly active, due to the motorized nature of the column's drive. Linear encoders are mounted within the column enclosure to minimize the effects of exposure and contamination. Encoded resolutions to 2 microinches (.05 µm) are available, with standard measuring accuracies of 100 microinches/inch (2.5µm/25mm).
McBain ZII and Mini Z Columns
These columns are more compact than the ZIII, having six-inch (150mm) and four-inch (100mm) vertical travels, with load capacities of 35 lb. (16kg) and 25 lb. (11kg), respectively. The ZII is optimal for XY staging up to 12 x 8 inches (300mm x 200mm); the Mini Z, for up to 12 x 6 inches (300mm x 150mm).
Utilizing stress-relieved precision-ground castings, the 6mm crossed roller bearing guideways and linear encoders are precisely assembled to ensure nominal travel accuracies of 100 microinches/inch (2.5µm/25mm). The ZII's separate coarse and fine control knobs permit focusing up to 2000X optical magnification. The Mini Z's single control knob operates to 600X.
Remote Controller
An ergonomic remote focus control console is available for all of McBain's Z columns. This remote controller offers flexible features that significantly improve operator comfort and efficiency. The console's rotary knob directs coarse and fine motions with fingertip ease; while conveniently located pushbuttons allow selection of five configurable focus speed ranges. A digital I/O port accesses optional motorized turret lens selection or computer override of focus motions.
We can ship this item worldwide.  If you would like a specific quote and estimated delivery time, contact us today.