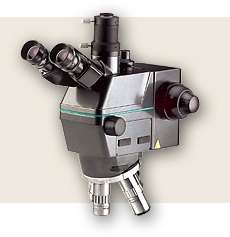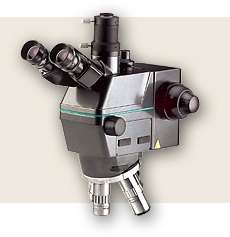 Mitutoyo Inspection Microscope
Designed for inspection applications
Mitutoyo provides several lines of microscopes that are well suited for semiconductor inspection applications as well as for materials science.
The FS-70 Series
Ideal for use as a microscope unit of a prober station for semiconductors. The FS70L supports three types of YAG laser wavelength ranges (1064nm, 532nm and 355nm), while the FS70L4 supports two types of wavelength ranges (532nm and 266nm), thus expanding the scope of laser applications, allowing laser-cutting of thin-?lms used in semiconductors and liquid crystal substrates.
Bright?eld, Differential Interference Contrast (DIC) and polarized observations are standard with the FS70Z. The FS70L and FS70L4 do not support the DIC method. By employing an inward revolver, the long working distance objectives provide excellent operability. Ergonomically designed, the FS70 features an erect-image optical system (the image in the ?eld of view has the same orientation as the specimen) and an enlarged ?ne-focus adjustment wheel with rubber grip coarse adjustment knob.
FS-300
The FS-300 is a high power inspection microscope that is designed for inspecting microcomponents such as IC chips and video head parts. The optical system features ultra-long working distance objectives, wide view ?eld eyepieces and independent correction for lateral chromatic aberration.
A complete FS-300 system can include a variety of parts for meeting diverse applications. Ultra-long working distance objectives provide easy manipulation of workpieces. Also, the instrument allows for easy switching between bright?eld and dark?eld illumination. It is available with or without a transmitted illuminator, and optional accessories are available to broaden the range of applications.
We can ship this item worldwide.  If you would like a specific quote and estimated delivery time, contact us today.